NEWS: Kamara.. clear assault footage released.. not good

Alvin Kamara is in trouble. We have been waiting for this day. The day that a clear version of the Kamara assault footage was released, and let's just say it's bad.
If you want to see the footage, I have the video on my instagram.
Background: If you didn't know, over a year ago (after the Pro Bowl), Kamara was arrested for battery after he and a couple friends beat a man outside of a club in Vegas (following the Pro Bowl).
The footage was not released right away, and Kamara and his legal team kept pushing the case forward so that he could play the entire 2022 NFL season. Well, he was finally indicited, meaning a grand jury met and decided that their was in fact enough evidence to proceed to trial.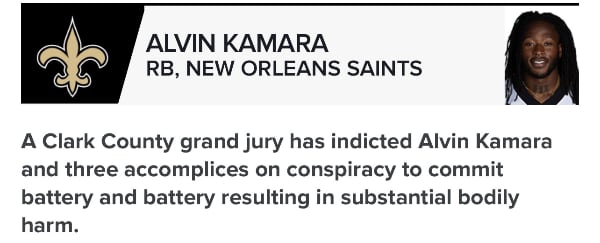 Jumping forward to today, clear footage of the incident was released, again you can see it on my Instagram right here. The video is awful, and Kamara is certainly in some hot water.
As I shockingly reported on all season long in 2022, It's amazing that the NFL sat on this, as it's widely understood that the NFL had access to this footage. While the NFL traditionally, as of late, allows criminal proceedings to play out in court before they consider handing down league discipline, the optics on this one are awful, and the leaked footage makes it real (and popular to circulate, which will put bad light on the NFL).
While Kamara could plea down to a smaller charge of conspiracy to commit battery, something that is possible, he is near certain to face a suspension in 2023. It's a matter of how many games.
Fantasy Football Advice: My advice is to avoid Kamara in 2023... all together. While it wouldn't shock me if the NFL gave him a 4-8 game suspension vs. a year-long suspension, it also wouldn't shock me if the Saints released him asap. And, it wouldn't shock me if no one wanted to roster him. He could play the entire half of 2023, or he could never play again. It's tough to know how this will shake out to be honest. However, he certainly already had value concerns walking into 2023, as he had an awful 2022 fantasy season. His decline is likely here. If you own him in dynasty, try trading him away using a future first-round pick to maybe land a top 4 overall 2023 rookie pick. Sometimes tossing in a player like Kamara can help you turn a would-be-late first-round 2024 pick into a 1.03 (Jahmyr Gibbs)... that's how you can win a league and save yourself from a declining player before they drop off completely... You have to likely couple Kamara with something, though (like described above), as Kamara alone will have people panicking and scared. He won't be moveable in dynasty if not coupled with some sort of other upside. If you toss in a 2024 first-round pick (one you quietly think will be a late pick, because you believe in your team), and you get someone thinking more about the 'what ifs' with Kamara vs the concerns... then you have yourself a sneaky deal.
In redraft, his ADP is tanking past round 7, and honestly, that's where Zach Charbonnet lives.. and, I take him 100 times out of 100 over Kamara. Draft smart in redraft when it comes to these kinds of situations.
Comment below!